It is necessary for life only not to call on friends when there is a need for support, no! But also when there is something to celebrate too. I am happy to let you know that I just completed a graduate degree program in the last two weeks.
It was a happy, fun, joyous, even overwhelming Tuesday, May 11 of 2021, when I graduated from Eastern University with a master's degree in organizational leadership. I want to share this moment with you because it was a long-awaited dream come true! I had envisioned studying nonprofit leadership since 2016, never knew where or how. I am grateful to God, UrbanPromise International, and Rays of Hope Ministries for the rare opportunity they gave me.
Congratulation messages and gifts flooded this day. The cherry on top was friends like Pastor Dave and his wife, Miss Nancy (Good Promise advisor on communication), Dr. Becky, Miss Sandy Newhall (UrbanPromise International Director, Deaconess Rhunnet Lovelace, Miss Gloria, and Reverend Marsha grace me with their presence. I felt truly blessed, thank you!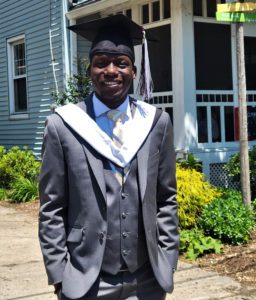 In the same spirit of gratitude, I happily invite you to an UrbanPromise International Move Challenge. The fundraiser aims to help UPI affiliate ministries raise summer camp funds. The Good Promise Ministries' goal is to realize a match-up amount of 10, 000 dollars to help us launch in July since we do not have summer camp this year.
You can either donate or join the Good Promise Ministries move challenge team with a sponsor. Pledges, one-time gifts, reoccurring donations, and checks are all welcome. For more information on setting up a move challenge team for Good Promise Ministries, please reach out to me through our contacts.
Once again, please follow the link https://runsignup.com/goodpromiseministries to donate or join under Good promise ministries now to support!
Click Support Good Promise Ministries to help us change lives.